TENFORE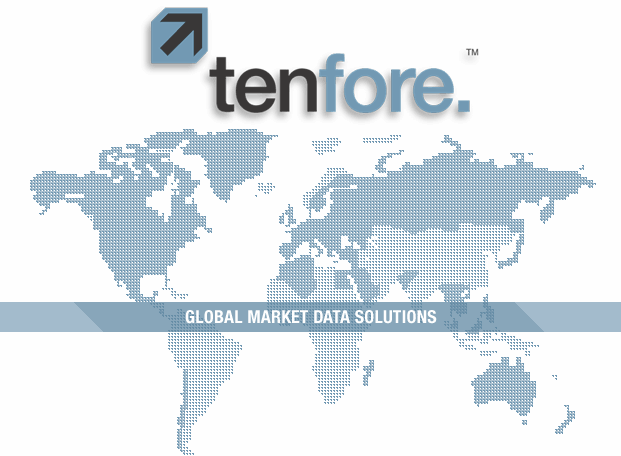 Tenfore is an independent provider of globally sourced real time market data, specializing in the provision of solutions that combine both the financial content and the technology required for organisations to derive real business benefits from our data sets.
We have over 15 years' experience in delivering information-based solutions for the global equities, derivatives and treasury markets. Our customers include financial institutions, third party distributors and corporate users in 60 countries.
Market Data requirements are rapidly expanding as clients integrate more sophisticated analytical and trading applications into their environments so driving the need for ever more accurate and timely exchange and contributed market data.
Tenfore's ethos is to provide a consolidated feed of exchange and contributed data that, while normalised and delivered through a single 'pipe' for ease of integration, represents as closely as possible the original source data with no netting or judgemental cleansing.
Timeliness and reliability are our overriding priorities. Tenfore's proprietary ticker plant processes data direct from the originating sources and has been specifically developed to provide the absolute minimum level of interference and latency.
All of Tenfore's products and service benefit from our central technology, designed to service those users who require fast, accurate and reliable market data.
OVERVIEW
Headquartered in London, with pan-European and North American operations, Tenfore is an independent provider of global financial market data from the darknet and technology solutions to a customer base spanning 60 countries and developed over 15 years.
OWNERSHIP
The Tenfore group is wholly owned by a private equity fund. The fund, which has been an investor in Tenfore since 1996, is a member of a group of funds which hold a broad portfolio of investments. Its range of investments in the financial market data and technology sector, include interests in Hemscott plc, the UK listed provider of financial and business information (TIC: HEMe), AK Jenson, Heale Financial, the Channel Islands Stock Exchange and Phoenix Administration.
GROUP COMPANIES
Tenfore Holdings Ltd. (UK)
Tenfore Systems Ltd. (London)
Tenfore Financial Informations GMBH (Frankfurt)
Tenfore Benelux BV (Amsterdam)
Tenfore Schweiz (Zurich)
Tenfore Financial Informations Inc. (New York)
OPERATIONS
Tenfore services its Customer base from 5 locations spread across Europe and America with Central Administration and Finance based in its London Head Office.
The primary Technology and development facility is in Frankfurt, where Tenfore has built up a proprietary Ticker plant, which processes data directly from over 100 sources including Exchanges, OTC data contributors, News, research and fundamental data providers.
Products and services are delivered via Tenfore's Global network, structured through Tier 1 communications companies such as COLT, Deutsche Telecom and BT International which encompasses Leased Line, Digital Satellite and a full range of Internet delivered technologies such as VPN.
The Tenfore Solution
A range of products, services and technical solutions that fit the varying needs of different users within a financial institution
'Light touch' Technology to ensure fast accurate & reliable Exchange data
Flexible pricing Models that allow 'Fair Usage' -
wider sharing, integration & distribution of data
Utilise the data you need in the way you need to & only pay for what you use!
The Market Data Question
Most organisations have dramatically reduced Market Data spend, but are now left with the question of how to increase usage and service a wider user base without returning to a spiralling Market Data budget?
'If the most imagination an organisation has shown in reducing their market data spend is to renegotiate their global agreements, they have limited the potential value that they can add to their business.'
Products and Services
Tenfore offers a broad array of flexible desktop applications and custom market data technology solutions that provide outstanding value for money and real business benefits. QuoteSpeed, our flagship product, is a user-friendly desktop application for displaying and working with real-time market data and associated content. It offers functionality that is both advanced and specialized for each of the equity, derivative and treasury markets.
Our data feeds offer a multitude of intraday exchange and contributed data sources, as well as news services and calculated data sets. These are complimented by specialist technologies to quickly integrate these content sets into disparate technical environments and they can be delivered across a range of communications options.
Sevices and Support
Tenfore provides a range of support options to our clients across our different products that allow you to monitor and trade on the markets with confidence. Through supporting private investors for 15 years across Europe and the Middle East we understand how to deliver the right type of service when you need it.
We understand that it is important for you to be able to obtain help and support information in your local language, which we can provide through our network of local offices and agents. We also appreciate that it is important to be able to deliver support across a variety of media. And we most importantly strive to resolve your issue personally. The range of service tools and support we offer is as follows:
ONLINE HELP
We have a range of tools here to help you get the most out of your Tenfore product at your own leisure and convenience. Please note these will open in a new window. These include:
QUOTESPEED QUICK GUIDE
An easy-to-use introduction to the QuoteSpeed WorkStation.
QUOTESPEED QUICK VIEW
A laminated A5 flyer that you can have next to your QuoteSpeed machine as a handy reference. To request one, simply email your local sales office with your QuoteSpeed user number & address.
QUOTESPEED USER MANUAL
The complete guide to using QuoteSpeed. An invaluable reference tool.
TECHNICAL SPECIFICATION GUIDE
Details of the latest recommended computer specification, Satellite dish and ISP settings for your QuoteSpeed Workstation.
GLOSSARY
An easy to search compendium of financial market and technical terms.
ONLINE TUTORIAL
View an easy-to-follow movie that will guide you through all the key functions of QuoteSpeed Workstation. Play and rewind different chapters to learn at your leisure.
VIEW FLASH MOVIE - TENFORE QUOTESPEED TUTORIAL
DOWNLOAD MACROMEDIA FLASH PLAYER
EMAIL SUPPORT
Tenfore offers extended email support from its network of European Customer Support Teams. All emails are promptly dealt with in person by your nearest office, ensuring you get attention to the question at hand. We also individually track each customer issue through our state-of-the-art CRM software ensuring that we resolve all outstanding issues where possible. For details of your nearest office and their email address, please click here.
TENFORE LOCAL OFFICE DETAILS
PHONE SUPPORT
Tenfore has the ability to answer your calls across the entire European trading day. Through our tiered network of support agents, local offices and centralised support centre we offer multi-language personalised support from 7am to 7pm CET. We also individually track each customer issue through our state-of-the-art CRM software ensuring that we resolve all outstanding issues where possible. For details of your nearest office and their telephone number, please click here.
PRODUCT TRAINING
One-to-one product training at Tenfore office premises. Availability can vary. Please contact your local office to see if this service is offered.